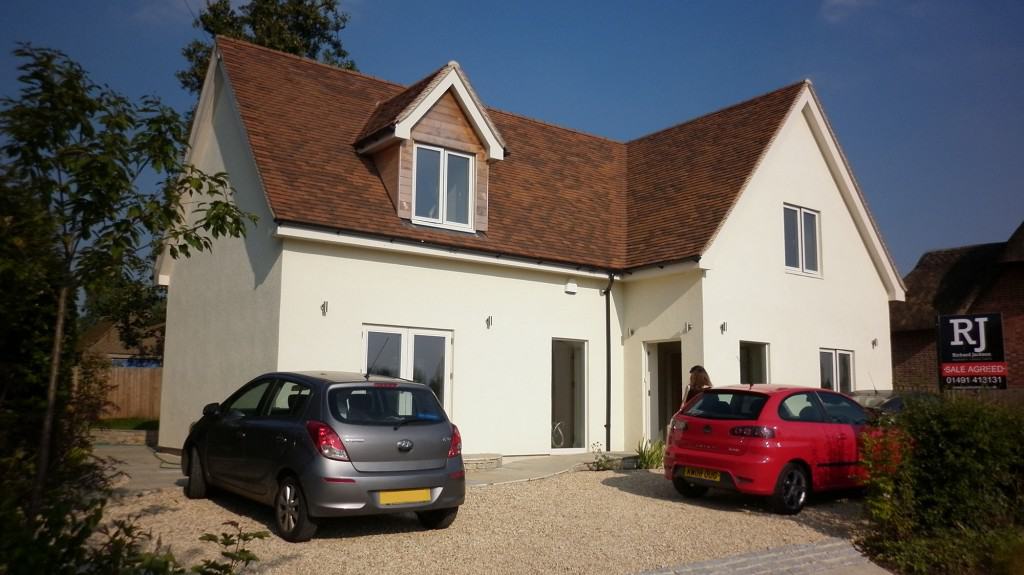 Hemp, lime and timber frame prefabricated panels are an exciting way of creating eco-homes. I recently visited a ecohouse (that doesn't look 'eco') completed in August 2016 and built by Greencore construction and was given a guided tour by Julia Bennett and Ian Pritchett.
Prefab or craft, can you have both?
I wrote a book on Contemporary Vernacular Design, so I am very keen to retain craft skills as much as possible. However, as part of my book research, I interviewed architects Alan Dickson of Rural Design and Neil Stevens of Dualchas, both situated on the Isle of Skye and both producing beautiful contemporary vernacular dwellings, well suited to the tough conditions in the Highlands. What was intriguing to me was that both firms provide their own pre-fabricated dwelling options (coming under R-House and Hebridean Homes respectively) in addition to their usual bespoke dwelling design. These still look beautiful, and as Alan Dickson explained; there are 101 ways to get timber cladding wrong and one way to get it right. Pre-fabrication is a way to get it consistently right. These prefab houses look beautiful and crafted.
Inspired by this, I have been keen to explore pre-fabricated construction to reduce time and worry on site (especially with Passivhaus builds). Which is why I was so pleased to attend the Greencore seminar at the recent AECB conference in July 2016. (strange how you have to go all the way to Norwich to discover what you need is only on your doorstep in Abingdon!)
Having provided the hemp construction system for The Triangle, Swindon (link), which was not prefabricated and built on-site during the cold and wet winter of 2010-11, Ian Pritchett could see that prefab, where panels are built in a dry factory, had to be the way forward (having been a doubter himself).
The natural prefab panels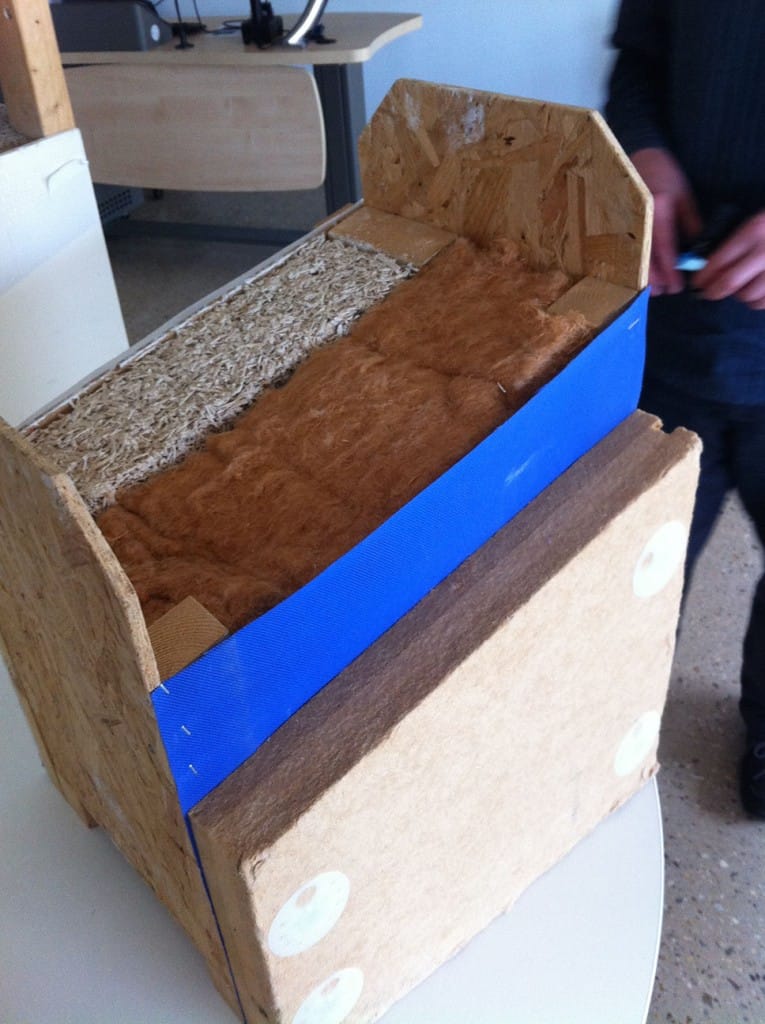 Greencore offer a hemp filled timber-frame, factory-made panel system. But this is not SIPS – which is high in embodied energy, not breathable and studies in America have highlighted issues with poor airtightness detailing causing internal rotting.
The hemp and lime lock up carbon and are both renewable and breathable offering a superior living environment. Greencore offer a bespoke design, working with architects at an early stage to ensure that design and construction are in synergy and there will be no surprises on site (or at least they are vastly mitigated – there are always surprises on site).
Commercially viable…
Ian is keen to point out that although you can use clay or lime plasters internally to complete the full breathability of the wall (and therefore a lovely atmosphere as well as very low environmental impact). You can also use standard plasterboard and emulsion paints and that these more commercially viable materials will still offer a pleasant living environment when combined with an MVHR system.
I was surprised to discover a lack of fresh paint smell and assumed eco-paints had been used, but no, standard emulsions and an MVHR ventilation system delivering constant fresh air allowed smells to disperse very quickly.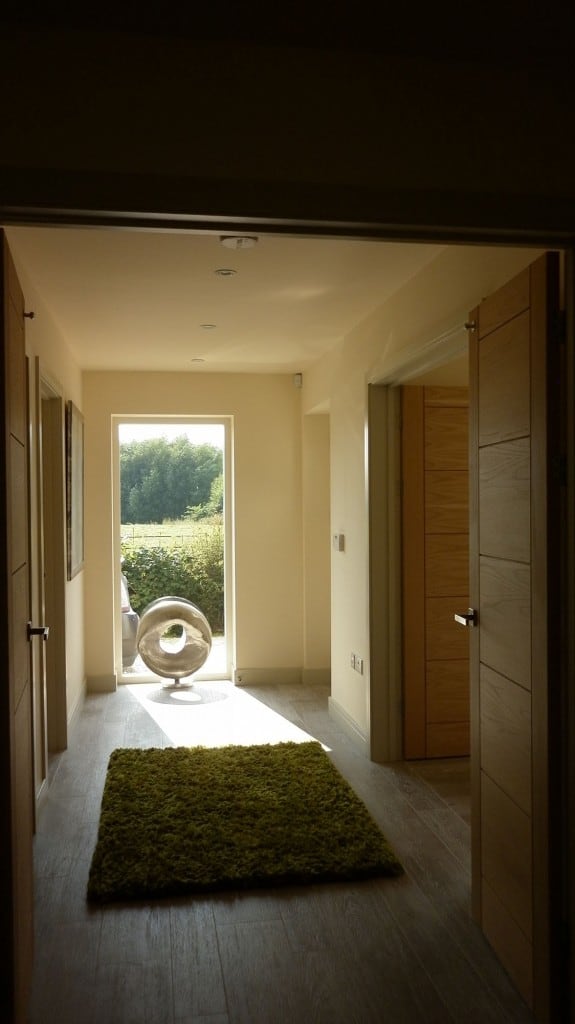 The house is simple in design, with an attractive L shape, lovely open plan spaces, lots of light and beautiful vaulted ceilings with large rooflights in the bedrooms and bathrooms.
Simpler to achieve Passivhaus detailing…
Unlike the wide masonry cavity wall Passivhaus construction that I have previously used, the hemp and timber frame construction is easier to build in many ways. Windows are best situated in the middle of the insulation to retain best thermal performance and this can be achieved by sitting them on plywood boxes in masonry cavity construction, however stone reveals are not possible and aesthetically clients are not so keen on the deeper external reveals.
The hemp-lime system allows you to position the windows centrally without ply-boxes as that is where the timber frame is situated. However, to fulfil client expectations (and this house is a commercial project), Greencore have used pure-nit boards to cantilever the windows closer to the external face of the wall. Purenit® boards, though more expensive than plywood offers much better thermal performance.
Using PHPP (Passivhaus Planning Package) software as standard they are able to predict heating requirements and always beat the predictions of the software on site. This means that the performance of hemp-lime beats the predictions of the PHPP and the heating demand is lower once built than was predicted by the software. This is very advantageous and defies the industry norm of as-built energy performance being lower than predicted in SAP (the industry standard for assessing energy performance of building as required by building regulations for all new buildings).
I am looking forward to working with Greencore on future projects.