YOUR GARDEN LANDSCAPING PRIORITIES
When planning a garden landscaping project, there are lots of things to consider.  These can seem quite daunting, but if you start with your priorities and the constraints of your plot, many of these decisions will be made for you.
Decide what you want
Make a list of all the things that you would like in your garden. Then number these from 1 to 5 according to which is most important. For example – after dinner drinks area, herb garden by the kitchen door, swing for the children etc.
Your Favourite Things
If you have just moved in, it is worth spending some time getting used to the light and season changes, rather than rushing into a garden landscaping project. If you have lived in your home for some time, you will already know the answers to these questions:
Where is your favourite place to sit?
Do you have a favourite tree or plant, that already exist?
Where is nice to eat breakfast, lunch or dinner in the summer?
Is there a particularly good view to make the most of?
Is there an area of lawn where it is nice to play games or sit on a blanket?
Do you like entertaining? Where in the garden would be best for a BBQ area or an outdoor kitchen with herbs?
Make a list of plants that you love, then you won't forget to incorporate them into your design.
Practical Things
Do you use the garden at all in the winter eg. to access the shed? If so, incorporating a dry path would be useful.
Do you need separate areas for different activities eg. eating and playing?
If you have a dog, you might need to think about raised beds or pots to keep it from wrecking everything – likewise for toddlers!
Where does the light fall at different times of the day?
Garden Shape
If you have a long garden, you can break it up by incorporating circles, different 'rooms' or a diagonal design. A wide garden might benefit from a patchwork layout. A typical estate garden can feel a bit prison like with fences and brickwork blocking the eyeline. Softening these edges and changing the focal points will alter the perception of your space.
Garden Style
Try to ascertain your preference in terms of planting. Is it formal or informal, cottage, prairie or maybe even tropical style? Maybe you would like a mediterranean garden to remind you of being on holiday? A mural could also help with this.
You can find inspiration online by googling any of these terms. The RHS website is also very helpful here. Once you have decided on a style, plant choices will be easier.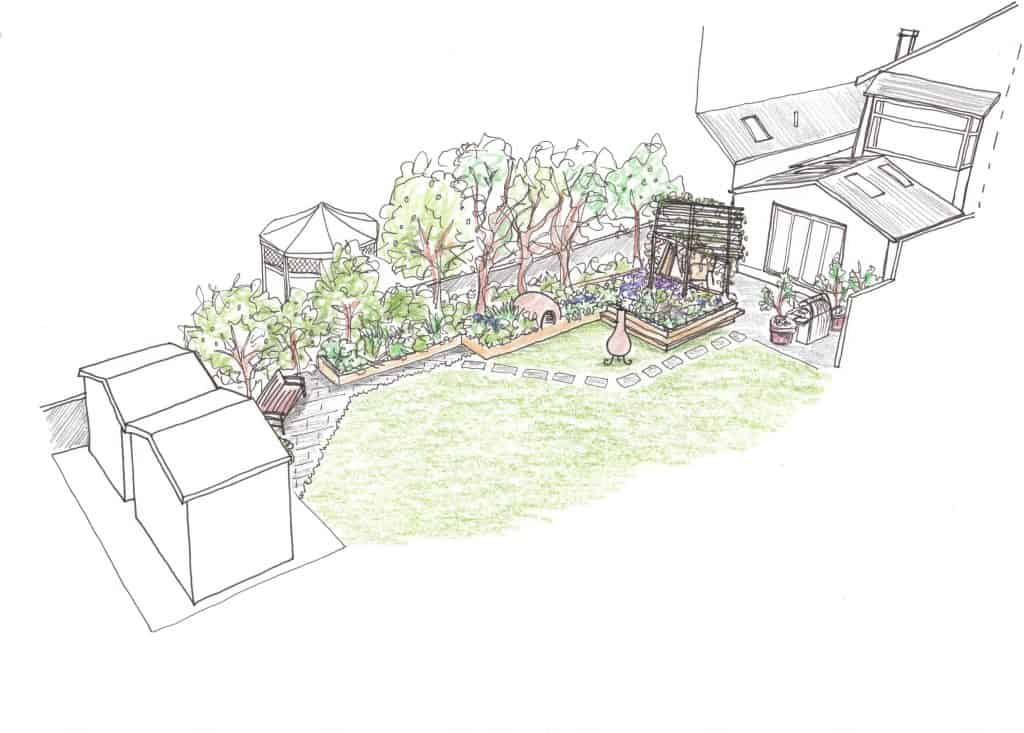 Sketch: This garden is long and thin, so it has been broken up using a diagonal axis. A bench is positioned to receive eastern sun for a morning coffee. A pergola provides privacy from the neighbours, but does not block light to the house windows.  There are new raised vegetable beds with a pizza oven for delicious BBQs! There is a large existing apple tree in the centre of the lawn (not shown), this gives an opportunity to hang a swing from the old branches.
Position your Priorities
Get a piece of paper and plot out your existing favourite areas and any access paths that are needed. These are your existing constraints that the design must conform to. Paths don't need to be straight though! Keep in mind the different design ideas above. There is lots of room to be creative within these constraints!
If you need help with this, we have a garden design service that will give you a plan to work from.
Then you can position your priorities. For example a herb garden is best positioned near the kitchen, but if that is north facing, you might need to walk a little bit further to reach good daylight. Not all seating areas need to be hard landscaped. You could have a bench on a raised bed filled with fragrant plants for example.
Other things to consider…
The Garden in Winter
Don't forget about the garden in winter! When most of the plants have died down, you will still be inside looking out. The view from your windows are most important here. A few pots near the back door filled with colourful plants, will cheer up a view. As will a few evergreens and trees for structure.
Privacy vs Light
Are there areas of your garden where you feel overlooked? A well positioned pergola might help to resolve this, or a more temporary solution could be a garden umbrella or shade sail. A well positioned tree or tall trellis with climbing plants could also be a solution.
Lighting
Think about where you might position some lighting. In our experience solar lighting is not very reliable or long-lasting, it could be wise to include an outdoor electric point in your garden. Some festoon lights hanging from a pergola or tree can make a lovely party space. Or a few placed garden lanterns can create a magical effect. These could be good old fashioned tea lights in glass jars, or church candles in tall glass lanterns.
Complement your house
It's important that your garden looks good when looking back towards the house from the garden. Think about lining up paths with a door or a window line. Also think about the age of your house, would it suit a contemporary garden or something more traditional? Some quite modern styles can look wonderful against a traditional house and vice versa.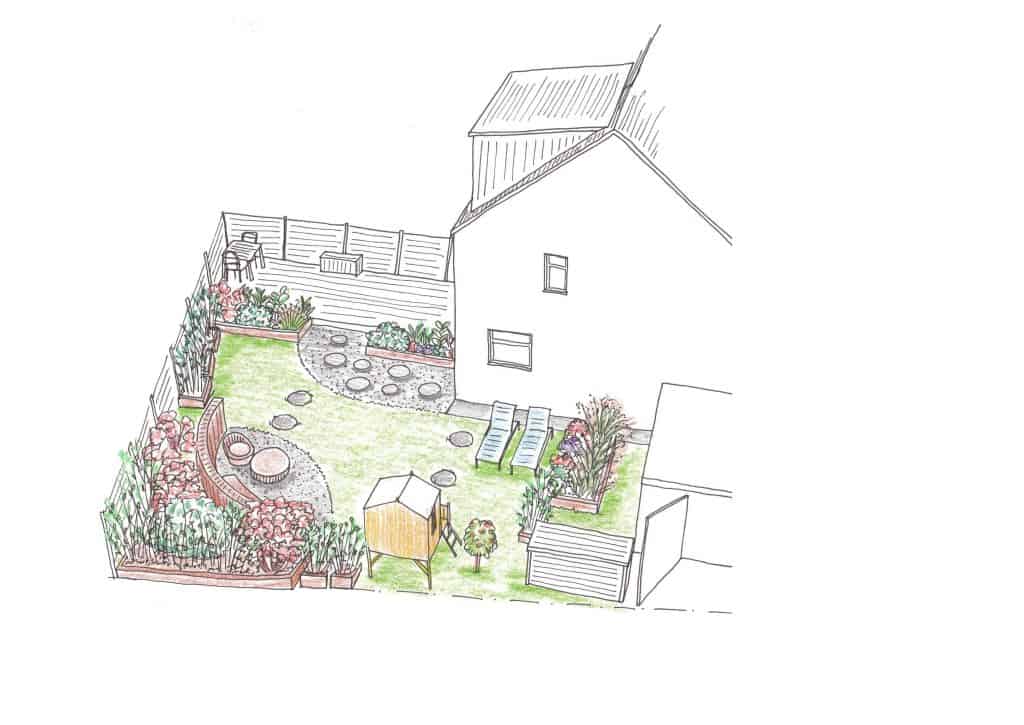 Sketch: This garden is wider. This time we incorporated a circular plan, with gravel paths and stepping stones (a bit zen), linking existing paths to a playhouse and a shed. A new circular seating area will catch the morning sun. It will be a shady spot, surrounded by tropical plants in the middle of the day. Tall bamboo planters continue the tropical feeling and provide extra privacy and cover the fence.
A bit stuck with your own garden? Here's how we can help…