I am a chartered architect, an author and teach architectural technology and business at Oxford Brookes University. I am passionate about quality and sustainability and I was recently asked to appear on a Grand Designs expert panel as a sustainability expert.
I have recently finished writing a book about sustainable housing which involved European travel and a chance to bring ideas back to the UK. It was published by the Royal Institute of British Architects (RIBA) in November 2016 and is available to buy here.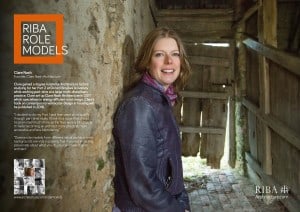 I am a RIBA (Royal Institute of British Architects) Role Model. Read more about what this means here.
I live with my husband, my son and a cat called Hector. Growing up on a farm and living in the countryside makes me ideally placed to focus on rural buildings and conservation.
I have studied vernacular architecture in the UK and abroad, completing a masters at Oxford Brookes University. This took me to Bolivia, Papua New Guinea and China looking at case studies. The findings of my research are applied to my work and modern day sustainable design. I have also lived and worked in architectural practice in Germany and Liechtenstein, very close to the famous Vorarlberg/Bregenzerwald region. This region produces some of the best contemporary regional design in the world.
I teach one day a week at the Oxford School of Architecture as a technology tutor. This keeps me in close contact with the latest ideas and technologies.
However, I am an architect first and foremost and this is my passion. Each client is very individual and has specific needs. Just as with my students, I will take care to discover these and thus find the best solutions for your project. I am committed to high quality architecture (I will not rest until I get the design right!) and I enjoy making spaces work for my clients.