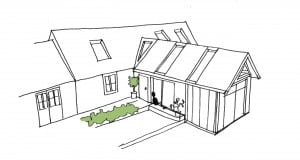 In a series of a few posts, I am going to go over the process of designing and building a home extension. The first post is about permitted development.
Permitted Development
First things first – find out if your planned scheme falls under permitted development on the planning portal here
Permitted Development only applies if you or previous owners of your house have not had any extensions to the 'original house' . The 'original house' is as it stood in 1948 if it was built before that date.
Broadly speaking if you are an attached house you can go back 3m or if you are detached 4m to the rear and this can be double storey. If you want a side extension then only a single storey and no further than half that of the original house. Aside from permitted development rules there are also your neighbour's to consider especially regarding their right to light and any works you may be doing in or around the party/boundary wall or fence which you must notify them about.
If you think your extension does fall within permitted development then you can apply for a Lawful Development Certificate which proves that this is the case and may give you peace of mind and help any future house sales. This is usually half the price of a householder planning application.
If your proposed extension does fall within permitted development rights then please be aware that you will still need to obtain building control approval. More details on that in later posts.
If you find that your planned extension does not fall within permitted development rights then don't panic, you can apply for planning permission. A householder planning application usually costs around £172 payable to the council. I will be talking about this in more detail in a later post.