Contemporary vernacular housing schemes visited recently
Since the previous post on
inspiring housing schemes
 I have visited several more schemes. I find the visits very useful for my own projects as well as being inspiring schemes for my
book
. All of the schemes are pioneering in various ways, which means they are testing new technologies, materials and methods of design. They are then real life examples of how well these new ideas work in practice. By interviewing the residents and architects I can find out what really worked and what didn't. Recently I have visited a German straw bale co-housing development (all self built), an interesting housing scheme in central Paris, two certified passivhaus schemes in Norfolk which use local materials, a co-housing scheme near the lake district and another community oriented scheme in Wales complete with a green biodiverse roof.
This is a community self-build village in northern Germany. The majority of buildings are built using straw bales. They have managed to change German building regulations in favour of straw bale buildings. The people who live in this community also sign up to sharing duties such as vegetable growing, media and cooking. So in this way it has a lot in common with the co-housing schemes in this country such as Lancaster (see below).
      
This is a small development not far from the Pére Lachaise cemetery in Paris. As with all of Edouard François' work, the emphasis is on landscape and incorporating (even engulfing) buildings within it. Several tonnes of organic soil were added to the area to ensure the vines that have quickly covered the balconies grow strong and fast. The theme continues with greenhouse style bike sheds at each end of the development. There is much reference to context in terms of materials, even producing more local style housing to the edges of the development to ensure it fits in. It is somehow very French and very Parisian. Sadly as I visited in March, the leaves were not yet showing on the vines.
   
This is a housing association project in the small village of Burnham Overy Staithe in north Norfolk. Like many in this area of Norfolk, the village is 75% second home ownership and it was therefore important to ensure that local people could still afford to live there. The project manages to combine a very vernacular appearance of flint and brick with very high energy efficiency meeting Passivhaus standards. The design takes inspiration from local fishermen's cottages and the housing sits very well in its surroundings. The tenants are also pleased to live in something that is of such high quality and does not look like social housing.  The project has won many awards.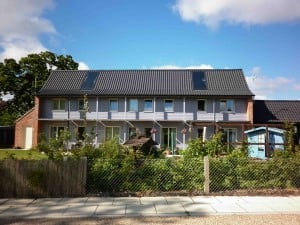 This is another housing association project in north Norfolk, that also meets Passivhaus standards. It sits on the edge of Fulmodeston, surrounded by fields. By drawing on local barn like forms and materials, the new housing is modern while retaining a regional identity. I was enthused to hear how the non-architect residents understood and liked this aesthetic as well. There are low fences between the gardens to encourage interaction and to create the feeling of 'barns in the landscape' rather than domestic closed board fence suburbia. A lovely thing about Norfolk is how the rows of houses peep out over the fields. Or, as Matt Wood of Ruralise calls it, 'Roofs Across Fields'. A distinctive feature in the flat lands of Norfolk.
   
This will appear in my book because building co-operatively is a vernacular way of building. It is also a Passivhaus which is also a vernacular way of building as (in Elrond Burrell's blog on the subject, it is responding to the climate we have today with the materials available locally. It is interesting to discover how well the buildings have turned out, how much the occupants love them and how all the technology has worked as designed. This is down to a lengthy design process, with much input at an early stage from the residents and the design team. Many developers are in a rush to produce housing and as their end user is unknown they do not take this time to get it right. The difference in the end product is obvious.
   
This development on the outskirts of Cardiff is set in an old farm yard. One of the existing outbuildings has been renovated and on the opposite side of the yard is the green turfed roof of 6 new-build dwellings, all achieving better than Sustainable Code for Homes Level 4 (when it still existed). This is a very unusual scheme for Cardiff and sits well in it's context of an old farmyard (and thankfully looks entirely different from the suburbia on the other side). Open ended gardens and open garages ensure easy interaction between residents and I witnessed a lovely community unusual for such a recent development. The fabric first approach (high levels of insulation and reduced thermal bridging) combined with the MVHR and heat pumps ensure fresh air and an even temperature all year round.
   
Beautifully crafted timber buildings that sit against a mountain backdrop. This region is famous for progressive modern architecture with a regional identity. The buildings offer a wonderful indoor atmosphere due to the breathable timber construction and in the social housing, also due to the MVHR which ensures warm fresh air circulates continuously. Vorarlberg has a long history of high quality craftsmanship, the future of which looks sadly to be heading into decline. The pressure on young people to go to university and the reduction in fees in Austria, mean that less and less people are training in craft.  I visited a 'mehrfamilienhaus' (a single built form divided into homes or flats). In this case it is was built by 2 brothers and the third brother took one of the flats in the second half of the building. This often happens due to land being passed down through families, who each want to build their own house on the land. I also visited a three-storey social housing project built using timber frame and larch cladding. The quality of the materials, the space, the views and the detailing were fabulous. As was the thermal efficiency and indoor fresh air climate created by the MVHR system. Social housing or not, I would bend over backwards to live in housing as high quality as this.