Clare speaking about how vernacular architecture can inspire good quality modern housing design using interesting case studies from her book:
As Clare has spent so much time researching what makes a great housing scheme for her book, the team was excited to have the opportunity to have a go at designing a contemporary vernacular housing scheme ourselves!  Earlier this year Clare Nash Architecture Ltd (CNA) was approached by a developer looking to build eight houses on the site of an old farmyard in Cambridgeshire.  The intention was that young families looking to move out of the city could settle down here.  Although the extent of CNA's involvement was just to produce a quick sketch scheme, it was a terrific chance to design collaboratively and apply some of the principles of contemporary vernacular design.
Daylighting, visibility and privacy
Daylight is top priority for any architect, and in a scheme based around a courtyard such as this one, it is important to make sure that everyone gets their fair share.  Some occupants benefit from south-facing gardens, so in the interest of fairness it is important to be creative with the shape of the other homes so at least part of their gardens benefit from bright sunlight.
The CNA team liked the idea of openable walls, like the Tekapo Shed by C Nott Architects in New Zealand, so that the building can adapt to the weather, and play with the boundary between inside and outside.  We experimented with a few ways of using glazing to maximise natural lighting, yet maintaining a sense of privacy.  We were keen to achieve a "Goldilocks" level of visibility, not so little that residents don't interact with each other and don't feel secure, and not so much that they feel encroached upon and under surveillance.
"Bang for your buck"
Creating value for money is not synonymous with scrimping on the quality of materials and craftsmanship; it can often be a matter of thoughtful and careful design. Embracing the industrial nature of the site and keeping to a tight material palette is a good way of creating a striking aesthetic, yet at the same time keeping costs down.  Another feature that increases the appeal and value of the proposal is that each house is unique in some way, yet they all have a coherent identity and it is clear they belong to the same scheme.  This affords each house a sense of individuality, allows future occupants a choice of features in their homes, and enhances the character of the development, making it stand out from the rows of "cookie cutter" houses we have become used to seeing.
Material palette
Identity and character are ways in which a neighbourhood defines itself within its context, and also how it can set itself apart and be distinctive. Brick, dark timber, and clay tiles are traditional, inexpensive materials used a lot in this part of the world.  They are also easy to reclaim and reuse, and to update for use with a more contemporary aesthetic.  This simple material palette set out our intentions for the scheme: a friendly, familiar character that offers the benefits of a modern lifestyle in a rural setting.
Access and movement around the site
How people move around a housing scheme is a crucial design element.  This is one of the greatest contributing factors to the sense of community within the scheme, as circulation dictates how people interact with one another.  The scheme is based around a central green courtyard, which is distinctly public.  Trees ensure that houses facing each other do not directly overlook each other, and shade the shared space below.  This courtyard is a pedestrian area, although there is room for cars to drive up to the house entrances if this is necessary, cars would usually be parked in garages close to the site entrance.  The houses each have their own private back gardens, and these can be accessed through alleyways leading off the main square, signalling the transition between public and private outdoor space.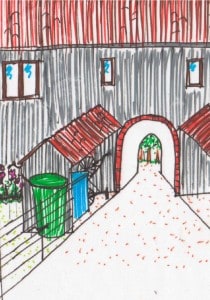 Possibility of live/work
The dream of settling down in the countryside becomes dampened somewhat if you still have to commute to the city to work.  The possibility of working remotely has meant that "non-office" ways of working are becoming more usual (just as we do at Clare Nash Architecture Ltd!).  The housing scheme we proposed offers offices along with the houses to create a live/work scenario, in anticipation of the lifestyle that suits young families today.
"Sense of place"
The notion of "sense of place" is a key theme running through Clare's book and was a key factor for her in choosing case studies.  Although it can be difficult to define, a strong sense of place is the result of a strong identity, relationship to surroundings, and ultimately the behaviour of a place's inhabitants.  An absence of this sense leads to an eerie, quite uncomfortable feeling – the opposite of "home".  At the end of the day, it is people and communities who create a "sense of place", but this does not absolve architecture and design of responsibility for this!  Working on even short projects such as this, and helping to research the case studies in Clare's book, has brought home how even the smallest of design decisions can have a huge impact on how people behave, and their mental wellbeing.