This July, Clare, Katie and Julia took part in Studio in the Woods, a "long weekend of making" run by Piers Taylor, who wrote the foreword to Clare's book.  The workshop took place close to the architecture world's worst-kept secret, Piers' Invisible Studio, nestled in a stunning Wiltshire forest, a stone's throw from the city of Bath.  Over 4 days the 80 participants split into 5 groups that designed and built a series of structures throughout the woodland, all using locally sourced timber, and with the challenge of not using any screws!  The three CNA-ers were each in a different group, and so each gained a different experience and approach to making.  The main thing we had in common was that we all had a huge amount of fun, food, and fresh air!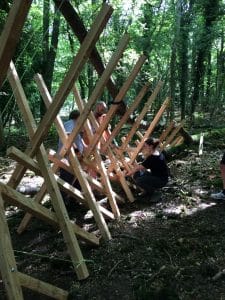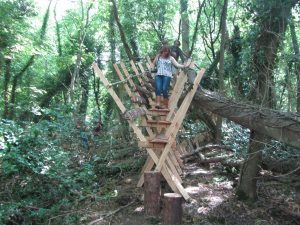 Clare's group – The Accidental Stegosaurus
Clare joined the group led by Barbara Kaucky and Susanne Tutsch of Erect Architecture.  Inspired by two trees that had fallen into one another, the group constructed a walkway supported by criss-crossing timbers.  The result was a striking, yet also highly functional piece of art/architecture, that certainly impressed the visiting critics, Ted Cullinan, Niall McLaughlin and Peter Clegg!
Katie's group – The Sky Oculus
Katie was in a group overseen by one of the Studio in the Woods co-founders, Kate Darby, along with Gianni Botsford.  Their interest lies in something they call "constructed analysis", using structure as a tool to measure something.  In this case, the group was measuring a patch of daylight in the canopy of the forest, in particular from Katie's perspective!  Katie stood under an opening in the trees and directed the other group participants how to manoeuvre the supporting structural members into place (Katie is very good at project management!).  The result was not only a sensitive response to the forest surroundings, but also a new way of understanding the place.
Julia's group – The Sacred Tree
Julia's group mentors were Fergus Feilden and Akos Juhasz.  The group found an old twisted tree – in fact, the oldest tree in the forest – that they wanted to celebrate, and also protect.  They did this through wrapping the tree in a screen of slender timbers that concealed and then revealed different elements of the tree as you moved around it.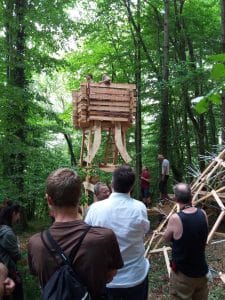 It is so important that as architects we get out from behind our computer screens and use our hands to make things!  An understanding of construction is something that cannot be purely book-learnt, and it is about so much more than the practicalities of attaching some pieces of wood together.  Clare, Katie and Julia came away with the enjoyment and satisfaction of having made something, and went to work on Monday morning with fresh motivation and enthusiasm for what we do here at CNA!