It's not all work and no play at Clare Nash Architecture Ltd (CNA)!  This summer the team had an "away day" in which we visited the NewhallBe housing Project near Harlow and the new extension to the Tate Modern by Herzog & de Meuron Architects.
We were all extremely interested in seeing the Newhall Be housing designed by Alison Brooks Architects.  Having assisted Clare in researching and editing her book, Katie and I were keen to experience an exemplary housing scheme off the page.  The team caught the train to Harlow and then the bus to Newhall, passing by typical utilitarian New Town architecture set on the unforgiving flatness of the East Anglian landscape.
When we got off the bus we walked down a pleasant pedestrian/cycle route into fields, away from the bustle of the main road.  One of the first buildings we came across was a traditional Essex barn, reminiscent of rural Dutch architecture with its striking black boarding and half-hipped roof.  Alison Brooks has said that barns like this were her inspiration for the materiality and form of the Newhall Be housing, so this was a nice piece of foreshadowing on our approach.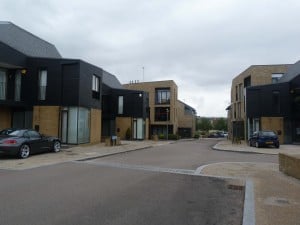 Upon entering the Newhall development we found Brooks' houses very quickly – each "neighbourhood" designed by a different architect is very distinct, and the Newhall Be houses are instantly recognisable by their distinctive dark cladding and angular roof shapes.  It was a Wednesday lunchtime, so most people were at work, and there was a real sense of stillness about the whole site.  It felt almost like looking around a film set, or perhaps a model village.  Although there are lots of street-facing full-height windows and doors, most houses had their blinds drawn.  There is plenty of green planting around the site, and this did mitigate the "empty" feeling somewhat.  Although none of the houses have back gardens, people had made use of their balconies and patios as spaces to bring in some colour and greenery.  There is also a large playing field very close by, which serves as a common green space for everybody.
Newhall Be (and the wider Newhall project) could be described as an updated version of the New Town philosophy.  It meets people's needs and thus creates a quite urban feeling in a rural setting, rather than imposing a twee imitation of a traditional village onto bright young professionals.  It doesn't fight the difficulties that arise in creating a community from scratch, and in accepting these challenges it has produced a new type of community.  People are able to maintain their "metropolitan" outlooks and behaviours, while still living in a small suburban neighbourhood.  Using vernacular architectural styles and methods of place-making as inspiration, rather than a rigid template, Newhall Be offers something that feels modern, yet also familiar.  I would just like to go back on a warm summer's evening and see it come to life a little more!