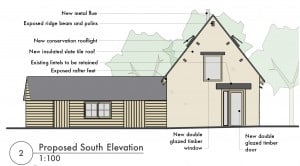 25th January 2015
A little bird told me recently (having attended a high up planning meeting) that the general feeling is that the new permitted development law that came in for barn conversions to dwellings in March 2014 may go out with a change of government. So it would be a good idea if you are thinking of converting a barn into a dwelling to get planning permission in the next few months. However you may not wish to start work in the near future due to other commitments, organising funding etc. But once you have planning permission you could do a small amount of work (this could just be some foundations or repairing stonework) which will secure the planning permission indefinitely. You can then carry on with the rest of the work at a later stage. Do be aware that any building work will need to be signed off by building control and leaving it too long (not signed off) may mean having to redo this work as the regulations may have changed.
If you would like to know more about the change in law for permitted development barn conversion to dwellings, then please see my blog here
If you would like to view our barn projects please have a look here
Please contact us using the Contact page above if you would like to speak to us about your barn project.