Clare Nash recently visited Ashley Vale self-build co-operative in Bristol which formed a case study in her new book. She visited residents and interviewed them and also went on a tour as part of the AECB Conference in Bristol. This was a very informative tour, covering the site history and politics, including the difficulties of fighting off a developer and then gaining planning permission for 20 unconventional dwellings. A real inspiration, and certainly a good example of how to deal with the housing crisis. These homes are individual, larger than standard but at very high density. This would not have been possible with conventional house building planning rules and 'the car rules' typical estate planning. So it is a very good example of what could be done to solve the housing crisis. Ecomotive were the 'developers' who enabled this development to take place and it's director Jackson Moulding was the founding member of the National Self Build Association (now the National Custom and Self Build Association (NACSBA). Ecomotive and Snug Homes are now keen to help future developments like this go ahead.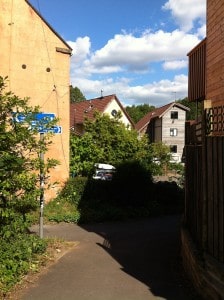 Interviewing the residents at Ashley Vale was a really rewarding experience as everyone was so keen on the development. People rated the community very highly and everyone seemed to know everyone, even the tenants. Local people in surrounding housing have also benefited with communal green areas and crime is very low. Three houses were open on the tour and it was interesting to see useful passive cooling techniques, such as low level openings and high level roof lights letting air circulate in a sun space. All the houses are timber frame with cellulose insulation, which creates a very breathable construction which is a very pleasant atmosphere to live in.
These houses were a lot cheaper to build than your average home. Plots cost £25-35,000, build costs were – £45-80,000. Cost per m2, around £500 which is extremely low, take note Mr Boles! Being green needn't cost more than a traditional house, in fact if you do it yourself or as a community it can cost less!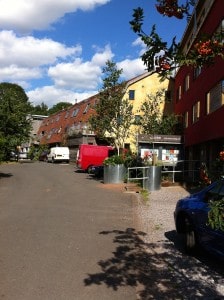 Overall this is an excellent case study as it shows that the housing crisis needn't be solved by identikit, soul less housing, instead you can identify a self-build plot and let people get on with building their own homes, creating fantastic communities as they do so.