The AECB conference 2016 was held at the UK's greenest building – The University of East Anglia Enterprise Centre designed by Architype. The most exciting thing for me was that the walls are clad in thatch (a vernacular material) and that all materials were sourced as locally as possible. When designing buildings, there is a lot of focus on keeping energy bills low, but not so much on keeping embodied energy low. Embodied energy is the energy required to manufacture and then deliver the product. Today we can import materials from anywhere, in stark contrast to the vernacular builders of the past who would have been limited to their local area. The latter is far more sustainable, but often overlooked as a necessary part of eco-building. The Enterprise Centre also achieves Passivhaus levels of comfort and air quality. It is a beautiful building, proving that eco design need not be 'wacky', it can fit well if it is well designed.
I learnt a lot from Bill Butcher of Green Building Store's talk about their latest deep (meaning very eco) retrofit of a house in Cumberworth, West Yorkshire. The owners had been paying £3000 a year just on heating (not including wood burning stoves) and were freezing, on this exposed Yorkshire hillside. Having come into some inheritance, they decided if they wanted to stay put, something had to be done. So they enlisted GBS who have achieved a 67% reduction in their heating requirements. GBS used a combination of capillary active Tectem insulation, fibreglass and a new product called Diathonite, all internally. The airtightness result (2 air changes instead of 1) was not as good as they were aiming for. Bill said this was because they should have treated the partition wall as an external wall.
David Gale and Tomas Gartner from Gale and Snowden Architects launched the new Building Biology course in the UK. This teaches practitioners how to mitigate the effects on human health caused by radiation, dust, off-gassing from synthetic materials such as MDF and plastics and alternative materials to use in construction that will not create problems. Our indoor environments have a huge impact on our health including allergies such as asthma.
Fran's straw bale house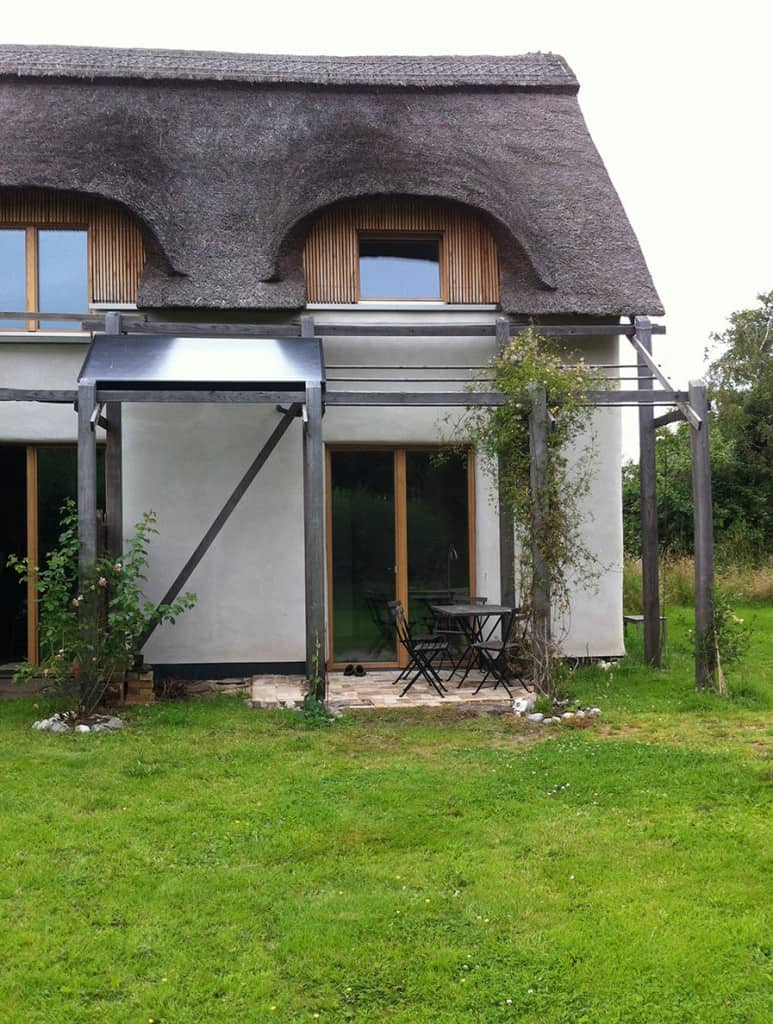 A great highlight of the AECB conference 2016 was a visit to Fran Bradshaw (of Anne Thorne Architects),  house in Norfolk. It is Contemporary Vernacular Design at its best, with locally sourced materials (even the reeds for the thatch which due to poor water quality in the UK, often has to come from abroad), and a design that is a contemporary interpretation of a thatched cottage. Using renewable and low embodied energy materials (timber frame, straw bale walls, roof insulated with thatch, cellulose (recycled newspaper) and wood fibre board) it is also an eco-house in the truest sense. The house also very nearly achieved Passivhaus, showing how energy efficient this way of building can be. it is a brilliant example of how to achieve a beautiful house and an eco-house. All of the AECB visitors agreed, this is the way forward.
I can't wait to build my own straw bale eco-house!
Hemp prefabricated construction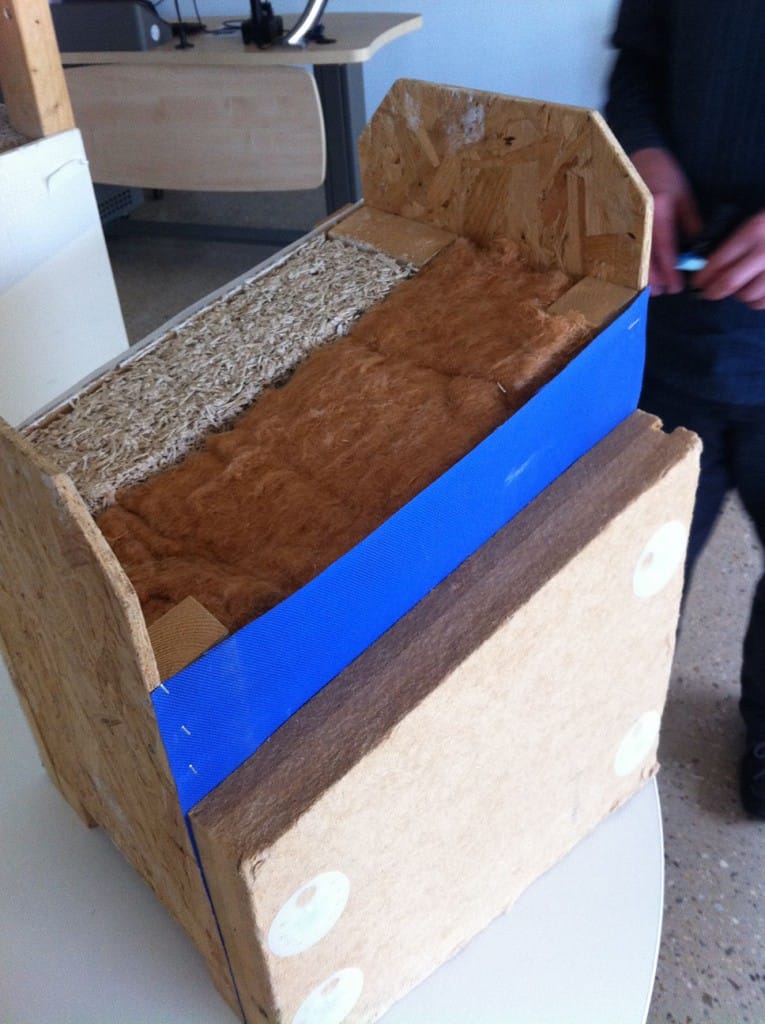 I also attended a seminar by Greencore Construction on hemp and timber frame prefabricated construction. This was very fortuitous and perfect timing as my blog about a CNA visit to one of their houses describes.
Gary Wilburn, Director at HPW gave a talk about some of their larger projects, including a Peppa Pig tourist attraction and a shopping centre with restaurants at Rushden Lakes. While a bit controversial at an event about eco-building (do we really need another shopping centre/tourist attraction to enjoy these natural environments?), Gary's message about methods of persuasion to clients not yet sold on the benefits of building sustainably was a good one. After all, these types of commercial projects are going to happen whatever we at the AECB might prefer. At least if there is a green architect whispering in the client's ear, things such as miles of extra cycle paths, wind-catchers providing passive ventilation and removing the need for air-conditioning, use of renewable energy sources and renewable materials as well as wildflower roofs will mitigate the overall environmental impact.