Katie Reilly PI Architectural Assistant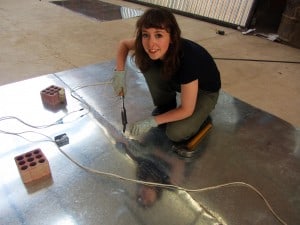 I am a MarchD student at the Oxford School of Architecture. I work part-time as an architectural assistant for Clare Nash Architecture Ltd.
During my year out I worked in a practice specialising in urban design and master planning where I developed my digital and physical model making in addition to drawing skills. I have also spent university holidays helping my project manager father check buildings on site.
I have spent my recent summers volunteering on community driven water projects in Bolivia and Morocco; and travelling in Peru and Italy. These experiences have inspired me to apply my architectural skills in the humanitarian sector and developing world. In particular, my interests lie in how improving water access can aid community development with a participatory approach. I hope to explore this further in my chosen design specialisation 'Development and Emergency Practice'.
As an avid architecture student, I dedicate a lot of time to my studies but take a strong interest in baking, art, exercise and travelling. Whilst studying I am also on the curating committee for the Oxford Human Rights Festival.
Team